Event Information
The Commercial Vehicle Technology Symposium is a two-day conference taking place at the campus Kaiserslautern of the Rheinland-Pf&aumllzische Technische Universit&aumlt Kaiserslautern-Landau. The conference includes (approximately) 50 oral presentations and poster presentations focusing international trends and technological developments of the commercial vehicle industry. It will be accompanied by a technical exhibition and a special vehicle exhibition.
Impressions
Target Audience
The CVA is inviting professionals from industry and academia from the domains trucks, buses, agricultural machinery, construction machinery, special-purpose vehicles to actively participate in this conference and to submit presentation proposals for the topic areas listed below.
More information can be found in the Call for Papers.
Topics
Alternative propulsion technologies

Electrification and hybridization, battery technology
Hydrogen, fuel cells, alternative fuels
Consumption optimization, operating strategies

Safety, Reliability and Durability

Functional safety, Software quality and cyber security
Durability, reliability and robustness
Usage variability, load data analysis and design load targets

Connected and integrated systems and services

Connected driving and working
Data-based services (remote diagnostics, predictive maintenance, ...)
Operating strategies, fleet management, logistic systems

Simulation Methods

Multi-discipline system simulation, co-simulation
Innovative testing approaches and virtual validation (XiL)
Virtual and augmented reality, driving simulators

Assisted and Automated Driving and Working

Semi-, highly- and fully-automated systems
Car-to-car/car-to-infrastructure coupling
Human-machine interaction

Innovative Development and Production Methods

Vehicle concepts of the future
Sustainable development along the entire valued-added chain
Lightweight construction, bionics, new production technologies
Conference Language
The conference languages are English and German. German presentations will be translated simultaneously into English.
Registration
Register as participant (possible from Nov 27, 2023)
We are using ConfTool as conference management system. You can register for the symposium 2024 at the website https://www.conftool.pro/cvt-2024/.
Conference Fees
Standard - Early Bird
registration until Dec 31, 2023
750 EUR
Standard
registration from Jan 01, 2024
850 EUR
Students / PhD students*
250 EUR
Presenter**
350 EUR
Presenter (University member)**
150 EUR
* presentation of a certificate of study or a corresponding certification required
** one person per presentation/poster
The conference fee includes admission to all conference sessions, catering, the conference dinner and conference proceedings.
There is no compensation for costs for travel and accommodation
Program
Program Flyer
The regularly updated program flyer of the symposium can be downloaded here.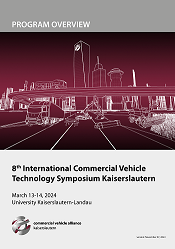 As of November 07, 2024
Program Overview
Wednesday, March 14, 2024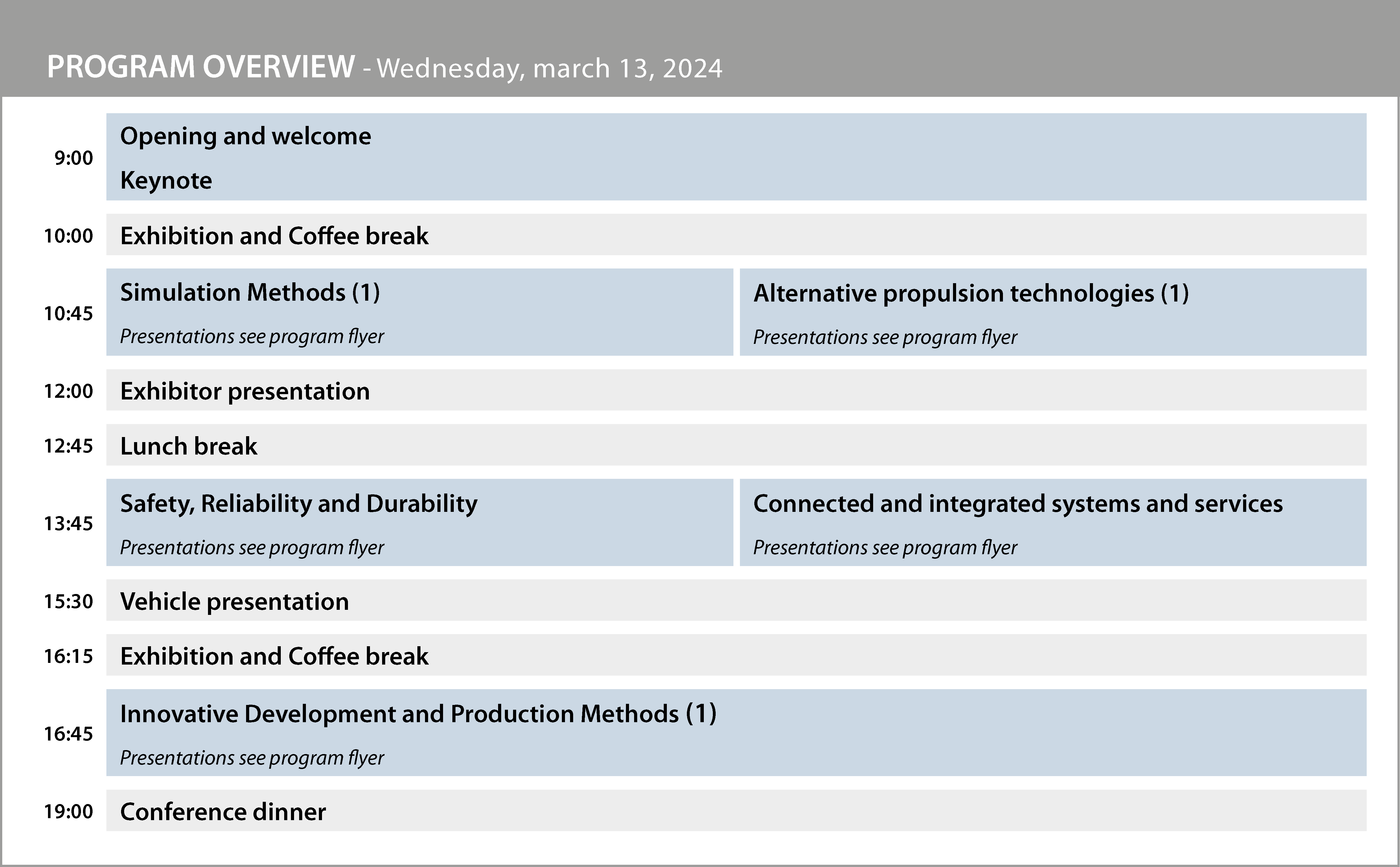 Thursday, September 15, 2022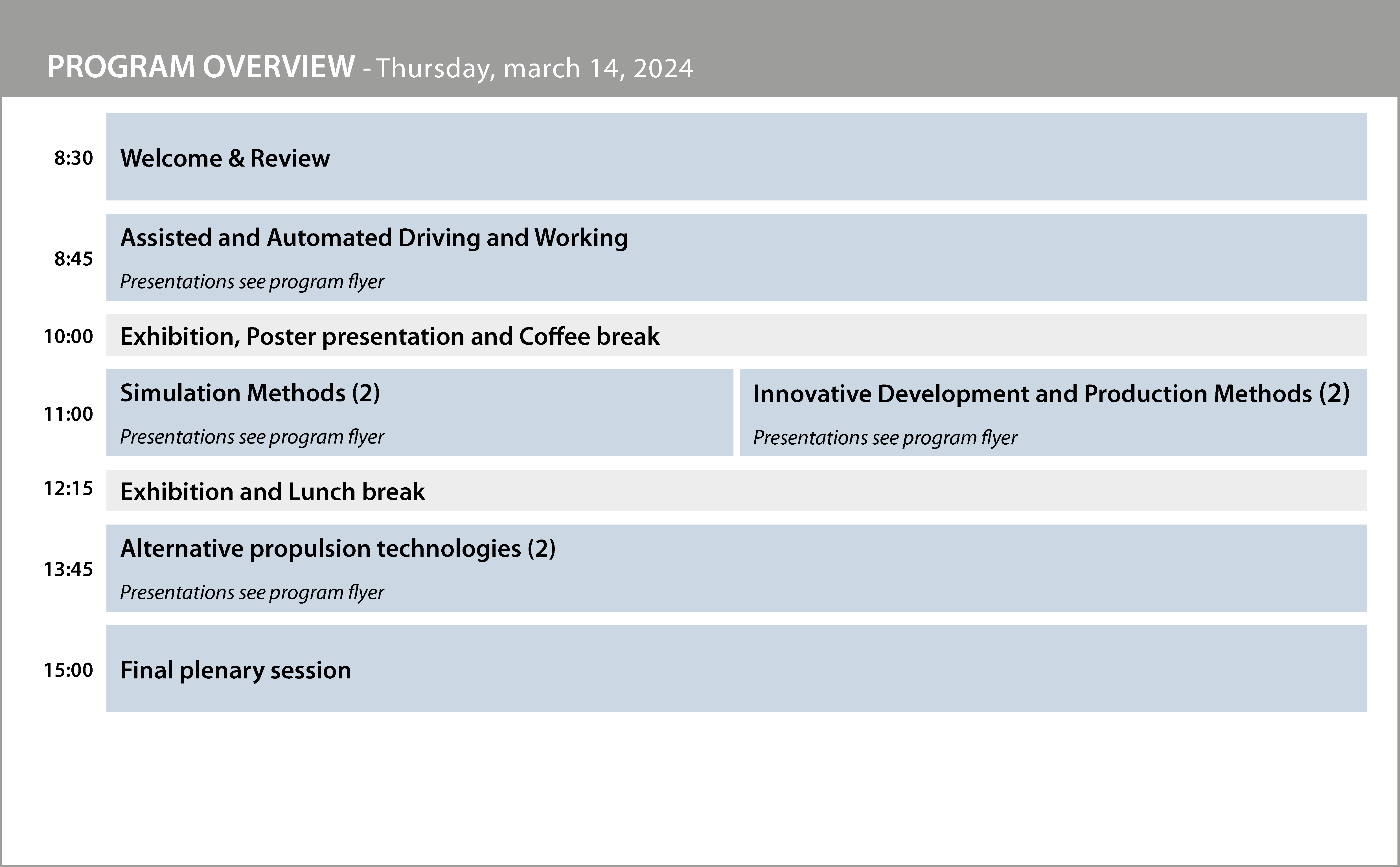 On both conference days
Accompanying exhibition of industrial-booths, poster sessions and product presentations
High-ranking managers and senior engineers are talking about new trends and innovations for commercial vehicles, busses, agricultural or construction machinery, or special purpose vehicles
Exhibition
The Commercial Vehicle Technology Symposium will be accompanied by a special industry exhibition. This is a great opportunity to present your company to an international audience of researchers and managers. The exhibition will take place in parallel and in close proximity to the symposium held on the campus of the University of Kaiserslautern. It is freely accessible for exhibitors and the symposium's audience. The organizers will assist you in organizing your stand at the fair.
Desirable exhibitors
Manufacturers and suppliers of commercial vehicles
Supply companies
Logistics and service companies in the commercial vehicle industry
Engineering service and software companies
Research institutes
Your benefits as an exhibitor
Wide public presence (Announcement of the symposium in online media)
Presence at the symposium in the event program
Attention of more than 250 professionals and executives in the commercial vehicle industry
Approaching potential clients
Strengthen your business network
If you are interested please get in touch with us: info@cvt-symposium.de
The call for exhibition will be available soon.
Organizers
Program Committee
Prof. Dr. K. Berns, RPTU Kaiserslautern-Landau
A. Brand, BPW Bergische Achsen, Wiehl
Prof. Dr. J. Dörr, RPTU Kaiserslautern-Landau
Dr. K. Dreßler, Fraunhofer ITWM, Kaiserslautern
Prof. Dipl.-Ing. Dr. techn. H. Eichlseder, TU Graz (A)
Dr.-Ing. U. Faß, Volvo CE, Konz
Prof. Dr.-Ing. D. Görges, RPTU Kaiserslautern-Landau
Dr.-Ing. C. Göttlicher, Palfinger; Bergheim (A)
Prof. Dr.-Ing. M. Günthner, RPTU Kaiserslautern-Landau
T. Ille, MAN Truck & Bus, München
Dr. S. Hammes, BOMAG, Boppard
R. Kalmar, Fraunhofer IESE, Kaiserslautern
Dr.-Ing. M. Kleer, Fraunhofer ITWM, Kaiserslautern
Prof. M. Lidberg, Chalmers University of Technology, Gothenburg (S)
Prof. Dr.-Ing. P. Pickel, John Deere, Kaiserslautern
E. Schobesberger, Liebherr-EMtec, Kirchdorf
Dr. M. Speckert, Fraunhofer ITWM, Kaiserslautern
Dr.-Ing. N. K. Stephan, RPTU Kaiserslautern-Landau
Prof. Dr.-Ing. R. Teutsch, RPTU Kaiserslautern-Landau
Dr. M. Thul, CVC, Kaiserslautern
Dr. G. Töpfer, Deutz, Köln
Dr.-Ing. C. Weber, Daimler, Wörth
Dr.-Ing. J. Wieser, Tadano, Zweibrücken
M. Wildhagen, SchmitzCargobull, Altenberge
Prof. Dr. F. Will, TU Dresden
Commercial Vehicle Alliance (CVA)
Umbrella organization
Imprint and Contact
Commercial Vehicle Alliance

c/o Institute for Mechanical and Automotive Design (iMAD)
Gottlieb-Daimler-Straße 42-166
D-67663 Kaiserslautern

Email: info@cvt-symposium.de